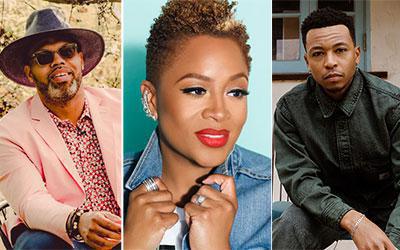 East Coast R&B is taking over for One Night Only. Join us for an evening of R&B Soul with Eric Roberson, Avery Sunshine, and Kevin Ross live at the State Theatre.
As a Grammy® Award-nominee, singer, songwriter, producer, professor, and Howard University alum, Eric Roberson continues to break boundaries as an independent artist in an industry dominated by major labels, manufactured sounds and mainstream radio. Born and raised in Rahway, NJ and described as the original pioneer of the independent movement in R&B/Soul music, Roberson has achieved major milestones in his career, from being a successful songwriter and producer for notable artists such as Jill Scott, Musiq Soulchild, Dwele, Vivian Green and countless others, to headlining sold out tours across the country. He has continued songwriting work while also releasing his own material through his Blue Erro Soul imprint. His second album The Vault Vol. 1 was release under his own label.
Roberson was nominated in 2010 and 2011 for a Grammy® Award in the "Best Urban/Alternative Performance" category and continues to blaze trails unheard of as an independent artist. He was the recipient of the "Underground Artist of the Year" BETJ Virtual Award, with Rahsaan Patterson in 2008, and he became the first independent artist to be nominated for a BET Award in 2007.
In 2020, the COVID-19 pandemic brought many challenges, but it also afforded Roberson the perfect time of solitude from the world to immerse himself creatively. With this, he created a powerful album, entitled Hear from Here, a musical cry out to its listeners who longed for a sound of hope. This 10-song impromptu masterpiece was done in just four (4) weeks (March 2020). Roberson describes Hear from Here as an "act of service" to his devoted fans. In June 2021, he released a new single, entitled "Lessons." Ironically, the song was recorded on the morning of his 12th wedding anniversary to his wife Shawn, with whom he credits as his inspiration.
Avery*Sunshine takes no detours in creating melodious music for the masses. She makes the kind of music that undeniably satisfies the soul. Her sound is uplifting, vibrant, and exactly as her namesake suggests, full of sunshine. She brings people together through her riveting stage performances, candid and often humorous stage banter, and optimistic anthems about love and life. Born Denise White in Chester, PA, her roots are firmly grounded in the church. Avery, along with her Grammy® Award-winning, creative life partner, Dana "BigDane"' Johnson; the singer, pianist and composer has created a remarkable and unforgettable sound.
The Atlanta-based singer's no holds barred signature soulful R&B appeal has garnered praise from the iconic musical figure, The Queen of Soul, Aretha Franklin, who raved, "I love Avery*Sunshine!" She has also received praiseworthy acclimation from luminaries such as Patti LaBelle, Berry Gordy, and Boy George, who proclaimed on Twitter "@averysunshine love this woman's voice."
Most known for the #1 Billboard chart hit single "Call My Name" from her critically-heralded sophomore project: The Sunroom, Avery and Dana were awarded ASCAP's Rhythm and Soul Song of the Year Award. Amongst Avery's award acknowledgements are nominations for both the Soul Train Award and BET Centric Award. From numerous sold-out shows and career milestones that include a UK tour opening for the late B.B. King, a performance on The Jools Holland Show and four Hot Adult R&B top 20 Billboard hits, as an endorsed artist with the Yamaha Entertainment family, she was invited multiple times to perform for and by the late Ms. Aretha Franklin.
Our current times have not escaped Avery's heart or soul. During the spring and summer of 2020, Avery, Dana, and their youngest son performed several free "LIVE FROM THE CRIB" shows for several hundred thousand people helping to uplift spirits during the pandemic. Additionally, as part of Avery's recognition of much of 2020's global concerns, she debuted the single "How Will You Remember Me" in June giving respect to those who fell victim to the pandemic and also to honor their loved ones, as simultaneously the country was dealing with racial and social injustice. Avery continues to set herself apart as not just an artist, but a person who is filled with compassion and one who is aware of her own human frailty.
Avery's determination to keep shining bright led her to successfully create and launch her own makeup line LOU*MACK BEAUTY in late 2020. She and her husband also developed the "HEY SUNSHINE SHOW", her own performance platform producing monthly live shows to share with her fans from the comfort of her own home.
Whether Avery is onstage in Asia, Africa, Australia, the UK, or even on the virtual stage from her living room sofa with a tiny keyboard and her family, she is always striving to fill the space that she was created to fill. She prays that the small space that she occupies in this world reminds everyone to shine as brightly as they can—no matter what.
Music has always been a passion for Washington, D.C. native, Kevin Ross. He attended a performing arts high school and went on to earn a degree from Berklee College of Music. His career began as a songwriter, getting his first placement with Jamie Foxx, which was followed by Ross writing and producing songs for such artists as Trey Songz, Toni Braxton, and Tank.
In 2017 Ross released his long-awaited debut full length album, The Awakening. The album's first single, "Long Song Away" peaked at #1 on Billboard's Adult R&B Song chart and at Urban Contemporary Radio with the follow up single, "Don't Go", cracking the Top 15. The chart-topping success of The Awakening led to Ross receiving several award nominations: Best New Artist (Soul Train Awards), Outstanding New Artist (NAACP Image Awards), and New R&B Artist (iHeart Radio Awards).
Ross continues to make a significant mark on the contemporary music scene as he kicked off 2020 debuting at #3 on iTunes R&B Albums chart with Audacity Vol 1. "Thing Called Love," the EP's lead single, entered the Top 20 on Billboard's Adult R&B Songs chart and was named the top song at Sirius XM's Heart and Soul. The success of Audacity led Ross to be named the R&B Artist of the Year at the 2021 Wammie Awards. Ross' current project Drive 2 debuted at #1 on iTunes R&B album chart with the lead single "Looking For Love" cracking the Top 10 on Billboard's Adult R&B Radio Play chart.
---