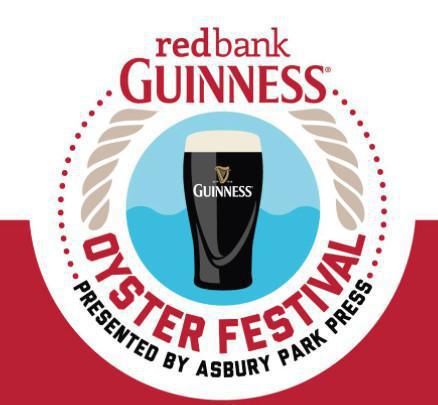 RED BANK GUINNESS OYSTER FESTIVAL
presented by the
ASBURY PARK PRESS and GUINNESS
Sunday, September 25th, Noon - 6PM
(RAIN DATE 10/2/2022)
White Street Parking Lot, Red Bank, NJ
This street festival anticipates a great time had by one and all and is fashioned after the 68 year old Galway Oyster Festival which celebrates the opening of the Oyster season.
This event is scheduled for
Sunday, September 25th, 12-6 PM (Rain Date 10/2/2022)
in Downtown Red Bank in the White Street Parking Lot (behind The Dublin House), with entrances on White Street and Monmouth Street.
It will be a huge food and music festival which will showcase Red Bank's excellent restaurants as well as entertain thousands with continuous live music on two stages! It's also family friendly with activities for the kids, plus unique vendors!
Great bands on two stages!
It's a mix of Irish Music, Blues, Funk, Pop, Rock and Roll and much, much more!
The event will also be a culinary feast! There will be tons of GUINNESS and fresh OYSTERS plus Red Bank's favorite restaurants will be serving a variety of specialty menu items including everything from Fried and Raw Oysters to Mini-Rueben's to Filet Mignon Sandwiches to Lobster Rolls and more and more and more!
Wine and lighter beers will also be available for purchase.
Admission is $5.00 for anyone over age 10.
We love your dogs, but please leave them home. Red Bank has an ordinance that prohibits pets at large festivals.
The Red Bank Guinness Oyster Festival is a fundraiser for Red Bank RiverCenter.
The Red Bank Guinness Oyster Festival is produced by RUE EVENTS.
Anyone seeking to participate in this fun event as an oyster vendor, non-food vendor, sponsor, advertiser or volunteer should contact RUE@RUEEVENTS.COM for more information.
If you haven't been to Red Bank lately, what are you waiting for??? Come and explore Red Bank's exciting and trendy downtown business district with its award winning restaurants, antique stores and fashionable shops!
Put the Guinness Oyster Festival on your calendar now...
Sunday, September 25th, Noon - 6 PM (Rain Date 10/2/2022)
---