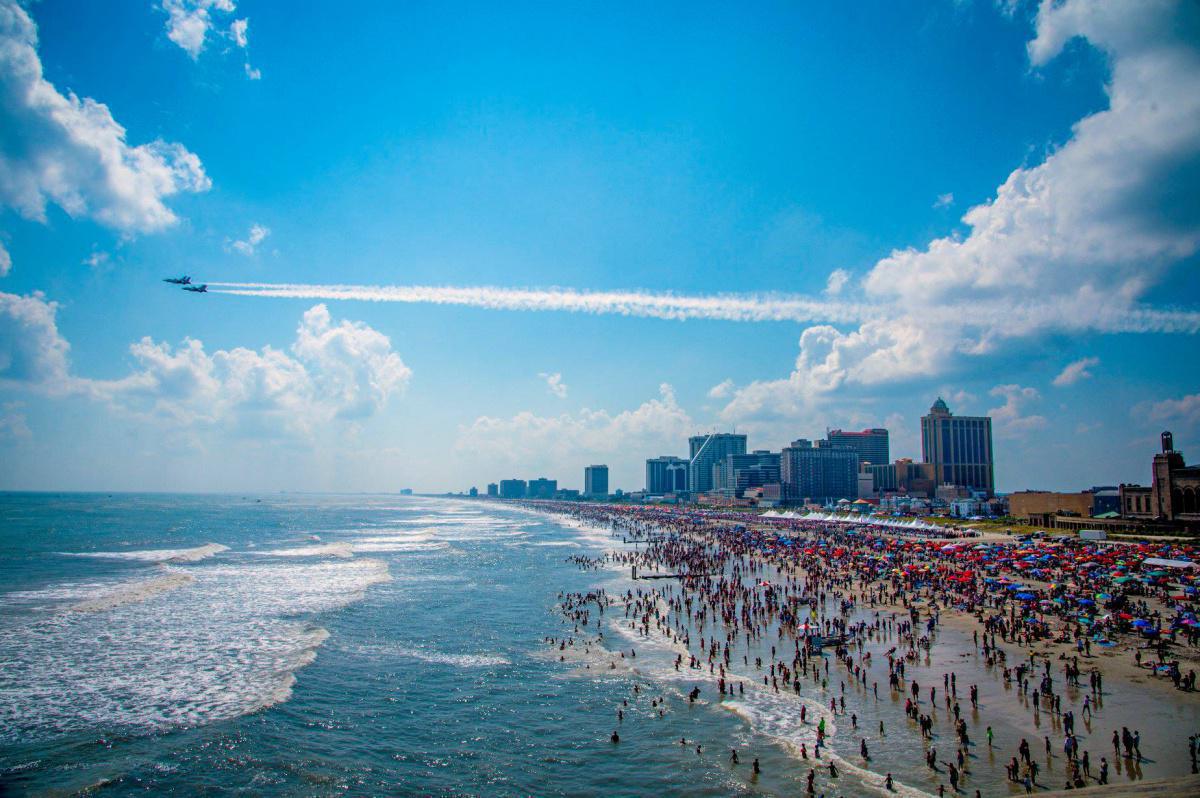 Flying in Atlantic City for the first time in five years is the U.S. Navy's F/A-18 Super Hornet "Rhino" East Coast Demo Team, which consists of pilots, weapon systems officers (WSOs) and maintenance crew. The mission objective of the "Rhinos" is to share the heritage of Naval Aviation and display the hard work and dedication of the U.S. Navy to the public. Pilots will fly the F/A-18F Super Hornet, which delivers cutting-edge, next-generation, multi-role strike fighter capability. The demo flight will fly as close to the "edge of the envelope" as safety allows, while highlighting the mobility, versatility and power of these remarkable fighter planes in maneuvers used during training and combat flights.
"It's incredible to have the Navy's Rhino Demo Team fly in the A.C. Airshow," said Chait. "As one of only nine airshows that the 'Rhinos' will be in this year, we feel very honored to have them fly in Atlantic City's."
Long-time airshow favorites, the U.S.A.F. Thunderbirds and the U.S. Army Parachute Team – aka the Golden Knights – will also take to the A.C. skies again, and more military and civilian acts will be announced at a later date.
The Thunderbirds will showcase the elite skills of their pilots, as well as the amazing capabilities of the F-16 Fighting Falcon, the Air Force's premier multi-role fighter jet. Audiences around the world are wowed by their demonstration, which is an exciting mix of aircraft performing formation flying and solo routines.
The Golden Knights, the uber-popular parachute team of the U.S. Army, will complete a demonstration performed to exacting standards of practice but tailored to our specific venue. As jumpers exit the aircraft simultaneously, several enormous yellow and black U.S. Army-branded parachutes will appear in the sky, delighting viewers on the beach. As part of their routine, the parachuters will often form geometric shapes in the air and employ smoke canisters for effect.
The Atlantic City Airshow is a community partnership between the Greater Atlantic City Chamber; Meet AC, the Casino Reinvestment Development Authority, the City of Atlantic City; the 177th Fighter Wing of the N.J. Air National Guard; South Jersey Transportation Authority; FAA William J. Hughes Tech Center; The Atlantic City International Airport; and David Schultz Airshows, LLC.
The A.C. Airshow's popular Flightline Club will return after being closed due to COVID-19 in 2020. The Flightline Club offers prime viewing at the center point of the show. Tickets for the Flightline Club will go on sale later this spring. All other Atlantic City Beach locations are free and open to the public.
---