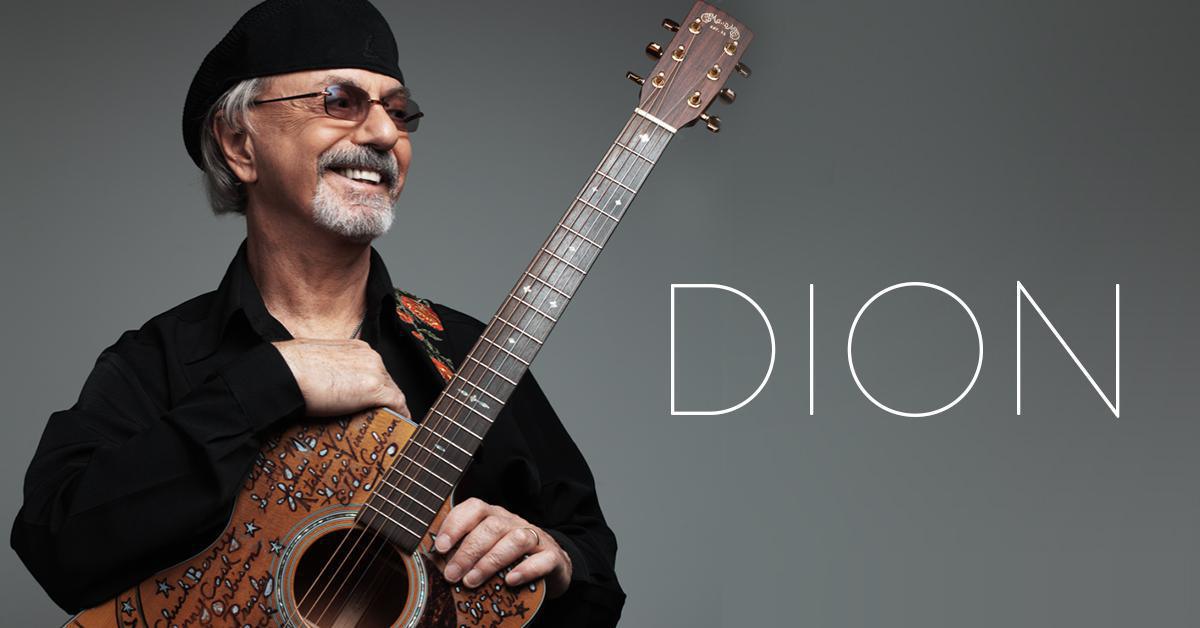 DION and his music will always represent a special time and place…a moment when a song could mean so much and a singer could sum up what it means to be young, in love and on top of the world.
Yet Dion is more than simply a cherished memory of a more innocent time. A singer, songwriter and performer of extraordinary versatility, range and resonance, Dion is fashioning music as relevant and revealing today as in the heydays of the 50's when, along with a handful of other innovators, he defined rock 'n' roll for a generation.
That mastery began at a very early age on the mean streets of the Bronx, New York. It was in the bars and on the street corners of his Bronx neighborhood that Dion's musical skill and style really began. R & B, blues, doo-wop and rock 'n' roll all influenced his approach to music, but it was country's great singer songwriter Hank Williams who first sparked Dion's singing ambitions. Whatever the reason, Williams' hard driving lonesome sound attracted the city boy. By age twelve, Dion had collected a hundred of Hank's singles and could sing as many by heart. It was his surprising feel for pure country that led to his first professional appearance on Paul Whiteman's radio and television shows, singing Jambalaya.
Dion's natural affinities and abilities were further honed on the stoops and on the street corners of Cartona Avenue, where he rounded up other local singers, inventing acapella licks. Then in 1957 he brought the best of the neighborhood rockers together, Freddy Milano, Angelo D'Aleo and Carlo Mastrangelo to form Dion & The Belmonts, named after Belmont Avenue, in the heart of the Bronx.
"I Wonder Why" was Dion's first hit with The Belmonts and over the next two years the group earned a reputation not only for topping the charts but for creating some of the most vital and exciting doo-wop music on the American scene. With songs such as "A Teenager In Love" and "Where Or When".
Dion & The Belmonts earned their place in the history books, while the group's pioneering role in the development of rock 'n' roll underscored their enduring accomplishments. A national sensation, they toured extensively and were featured artists on the star-crossed Winter Dance Party, the tour that took the lives of Buddy Holly and other musical greats. Dion was, in fact, scheduled to fly in the fateful plane that went down "the day the music died."
But the vitality of the music lived on when Dion, venturing out as a solo artist in 1960, racked up a string of #1 hits that many still consider to be the best of that, or any other, era. Over an incredible four year run Dion cut one quintessential rock classic alter another, from the rollicking "Runaround Sue" to the driving "Lovers Who Wander" to the anthemic "The Wanderer" – it was an unparalleled musical feat that elevated him to the top ranks of recording artists.
As the first rock and roll artist ever signed to Columbia Records, he continued his streak with such smashes as "Ruby Baby", "Donna The Prima Donna" and "Drip Drop". When not in the recording studio, he could be found frequenting Greenwich Village, New York, listening to roots music, the blues, folk stylings that were shortly to sweep the music scene. In 1968, Dion had matured as an artist, a more contemplative songwriter and performer and also discovered some hard-won answers and, in the process, found new reasons for living. And singing.
That same year he shot to the top of the charts once again with "Abraham, Martin And John ", a song that was as much an anthem for that era as his early hits had been in theirs. What followed was a string of acclaimed Lps including such moving and deeply personal offerings as Sit Down Old Friend, You're Not Alone and Siam Suite For Late Summer. The titles told all: Dion had come of age. During the following fifteen years, Dion devoted himself and his music to folk blues and Gospel, again earning a reputation as an innovator. He also recorded a series of albums that reflected an enduring faith in God, and was 7 nominated for a Grammy in 1985.
Through his intent on always looking forward, it was the repeated requests of friends and fans that he agreed to do a concert of his HIT material at Radio City Music Hall in New York City in the summer of 1987. It was an historic music event, one that tied up the loose ends of a legacy and, in many ways,
freed Dion to celebrate both his past and his future.
The Radio City shows were also the beginning of yet another career phase for Dion, leading to a series of special appearances, including a 1988 fundraiser for homeless medical relief. There he shared the stage with such renowned Dion fans as Bruce Springsteen, Paul Simon and Lou Reed, all of whom cited the originator of the Bronx blues as one of their prime influences. A subsequent autobiography titled The Wanderer published by William Morrow, and his recent induction into the Rock 'n" Roll Hall Of Fame further highlighted Dion' s contribution to the state of the musical art, helping, at the same time, to set the stage for his active return to recording. Yo Frankie, Dream On Fire and Rock and Roll Christmas are a collection of CD'S showcasing the inexhaustible creativity and sheer exuberance that has made this artist one of rock music's most authentic legends.
Today Dion's songs grow more important and valuable to his fans, himself and to a new generation of believers. His works being reissued on Sony, Warner Brothers, Rhino, Ace Records and Capitol.
His songs and his music are continually impacting people worldwide.
---